Divača/Slovenia: Seven regains ISO 9001 & 14001 certificates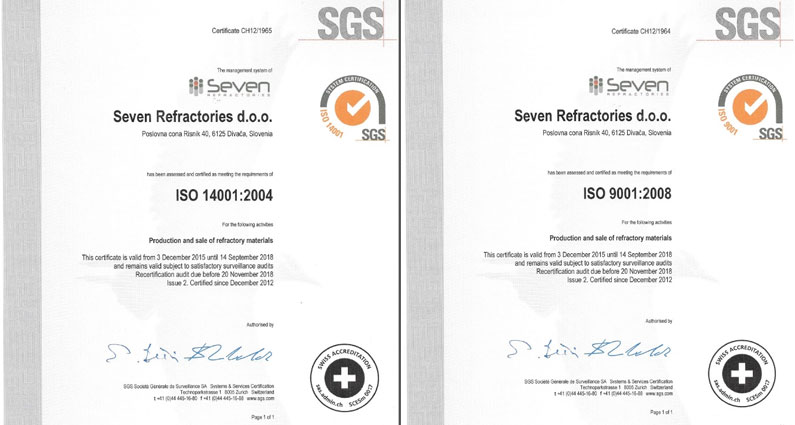 The external audit by SGS on the 9th of November 2015 in Divača was passed successfully by Seven Refractories. This year the company had to prove itself once again to regain the certificate for organization's quality management systems (QMS) and processes and the certificate for the management of environmental aspects and impacts.
Customers, consumers and shareholders are increasingly concerned over the environmental impact of their activities, their products and the services they consume.
For Seven Refractories being environmental friendly is one of the main goals. This may pose technological challenges, but it is also an opportunity to demonstrate environmental responsibility.
Improving the company's' organization's Quality Management Systems not only increases reliability, but also boosts profitability. Demonstrating real commitment to product and service quality transforms the corporate culture, with employees actively promoting ongoing improvement.
˝Continuous system improvements and analyzing customer satisfaction helps us to understand and monitor our customers' needs˝, explains Patrizia Romagna, Seven's management system representative. ˝For Seven Refractories, the positive external audit is another green light that the quality and environment processes are very well implemented.˝
This recertification is held every three years. Over the course of the next years, Seven Refractories will implement the new version focused on risk-based thinking. This will further strengthen the focus on environmental management within Seven.