Major blast furnace repair at Pao Tulachermet completed by Seven Refractories Russia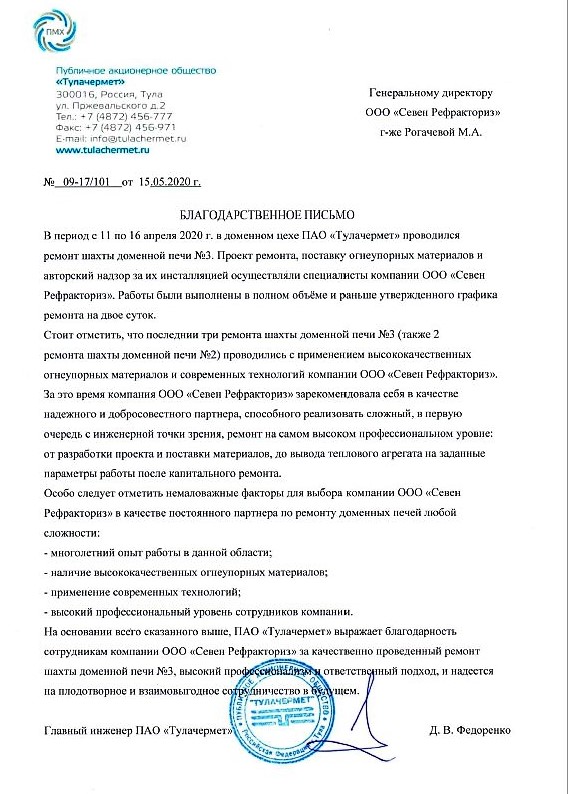 Under the supervision of experienced process engineers Yuriy Polyakov and Alexander Ivanov, Seven Refractories conducted a 25-day blast furnace repair in late March and April of 2020.
"Blast furnace #3 has a capacity of 2,000 m3, and we used more than 600 tons of various monolithics in the course of the project. What made the installation interesting from an engineering point of view was its complexity: We combined the application of various shotcreting materials from inside the furnace, together with grouting products applied from outside, to match all repair requirements of the blast furnace", explains Maryana Rogacheva, General Manager of Seven Refractories Russia. "A lining installation with modern shotcreting technique is nothing new for Tulacharmet, as we have already successfully completed several repairs since 2013."
In an official letter, PAO Tulachermet even thanked Seven Refractories for completing the repair two days prior to the agreed deadline. Maryana Rogacheva comments: ""We are proud to do a good job but it's always a pleasure to receive an official confirmation and thanks letters from Tulachermet with high evaluation of our performance."
The manual shotcreting technology was performed with the support of a lifting platform, and refractory steel anchors were utilized for the necessary reinforcement of the new installed lining.
"There were several technical obstacles to overcome during the installation", confirms Yuriy Polyakov, "but if you can rely on an experienced team of installers who accompany the project every step of the way from the initial plan, nothing can go really wrong. Blast furnace #3 is fully up and running, and we are happy that the client is fully satisfied with the performance of our materials and our team."