Novolipetzk BF5: Stack repair by shotcrete technology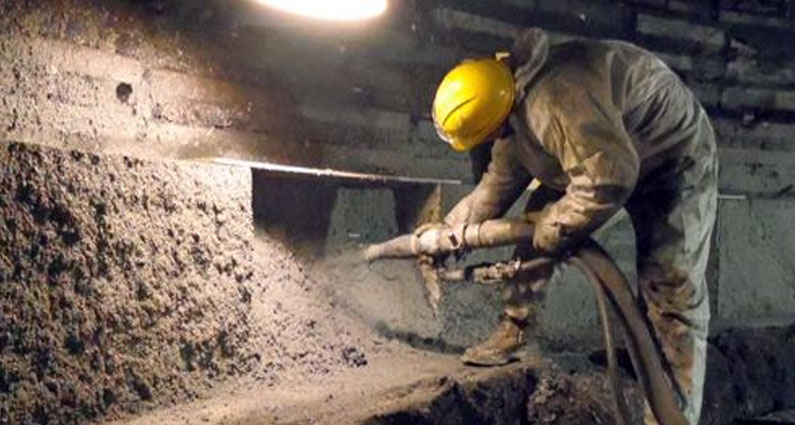 Stack repair by shotcrete technology, 16-21 December 2011
During the one month BF5 shut down an important mechanical and refractory repair has been carried out at Novolipetsk Iron & Steel Works. After casting the residual molten metal by drilling the hearth and evacuating the residual coke and the old damaged bricks lining in the tuyeres area, a large replacement of the cooling staves of the bosh, belly and lower stack area took place.
The revamped area has been lined by monolithic castables installed by the shotcrete technique bringing an innovation in technical concept and materials. In a frame of 5 days work, by the help of three lifting platforms, a double team of refractory installers have fully regenerated the tuyeres belt area, the bosh and the entire lower stack.
Over 600 ton of refractory materials have been used. Different products corundum, silicon carbide and mullite base have been used as working lining. The joints between the staves have been sealed by plastic ramming high alumina base. The gap between the shell and the staves has been grouted by chamotte self-flowing castable.
The synergy of SEVEN and its installation partners with the local staffs engaged in the complex of mechanical activities has been the basic point for the realization of the work in a limited and difficult timeframe.
The BF5 repair is the largest and most important project realized in the 2011 by SEVEN and it is an important milestone for further developments.