RUSSIA: TULACHERMET – Blast Furnace n°3 Relining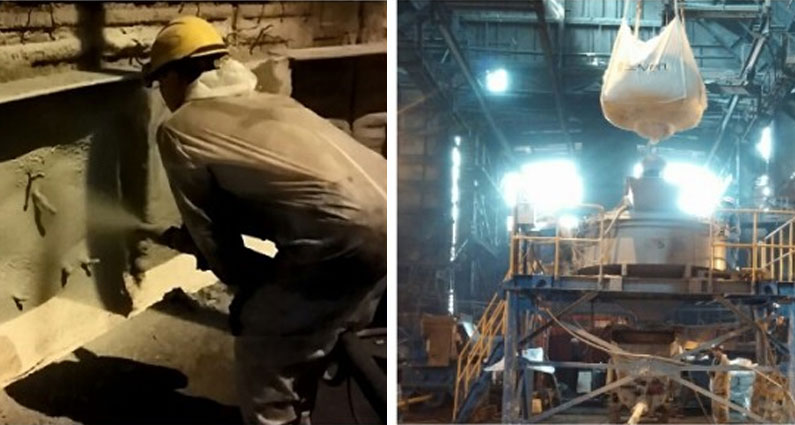 The Project commissioned, based on the shotcrete technology using a movable lifting platform, has been performed starting from 3rd of July.
Seven Russia provided the project engineering, product supply, installation and supervising.
Shotcrete refractory has been installed starting from the upper part of tuyeres belt after that the burden has been lowered and capped with insulating castable to ensure safety condition inside the furnace.
During the shut down operation has been found that one complete row of staves has been lost in the upper part of the furnace and missed staves also in other rows below.
Due to the impossibility to install new staves the original project has been revised on site considering to deliver additional 180 tons of shotcrete to rebuilt all the areas without cooling staves.
575 ton of different qualities of Seven Shot have been applied starting from the bosh until the full reconstruction of the upper part of the blast furnace
The additional request of 180 tons one day before the beginning of the installation prove once again the strength and extreme flexibility of our international team, able to produce and deliver the huge amount of material in the shortest possible time from Divaca to Tula. All the refractories has been installed with any delay giving back the furnace, ready to restart operations, two days ahead of the scheduled date.
Luca Folco – TD of Russia Business Unit is keen to stress:
"I'm really proud and satisfied with the work done by our team. Despite the many complications that usually happen in that kind of job, with working conditions sometimes very hard, the team of Seven Russia has shown once again preparation, dedication and extreme expertise.
A praise also to our logistics and plant in Divaca for the performance as Guinness Book of World Records in the production, shipment and delivery of 180 tons in 6 days, ordered the day before the beginning of the installation. "
BF3 Capital relining is the third successful project carried out in 5 five years by Seven Refractories Russia in Tulachermet. Currently all the 3 blast furnaces in the plant have refractory lining provided by Seven.