Seven Kazakhstan Factory Opened in February 2017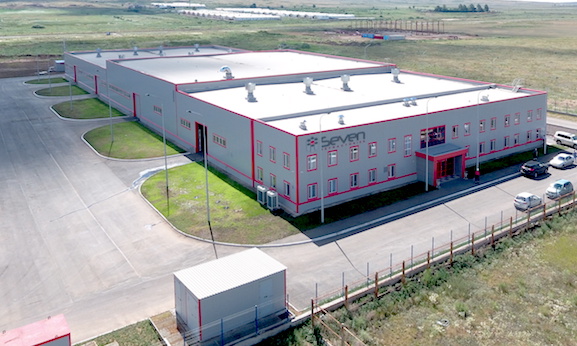 Seven's growth over the last years has triggered substantial expansions: In 2016, the main plant in Divača/Slovenia was expanded with fully integrated production, shipping, and storage systems. New and improved lines for dry-mixing and taphole clays are complemented by a brand new 300m2laboratory.
In February 2017, Seven takes a crucial step in its further international expansion with the opening of its brand-new plant in Karaganda, located approximately 200 kilometers South-East of Kazakhstan's capital Astana. The factory capacity of 40.000 mt will ensure that clients in the area are provided with modern refractory products in time and without unnecessary transport cost.
"Kazakhstan has a wealth of natural resources, especially oil and iron ore, which has led to the development of a highly dynamic production industry. In addition, Kazakhstan's strategic location makes it an ideal site for Seven's most Eastern plant", comments Vladimir Bedov, Board VP of Seven Refractories. "The entire team worked very hard to have the new plant up and running according to the time frame we developed", adds Metod Prelec, who was posted to Kazakhstan from Seven's main plant in Divača/Slovenia. The first production run was successfully completed in mid-February, just as planned.
"Our discussions with potential clients are highly promising, and we are getting very positive signals about our presence in the area", explains Maxim Glazunov, General Manager Kazakhstan. "To provide potential customers in the area with advanced refractories is highly needed, and we are ready to provide the most modern products."