Seven Refractories Celebrates Grand Opening in Divača/Slovenia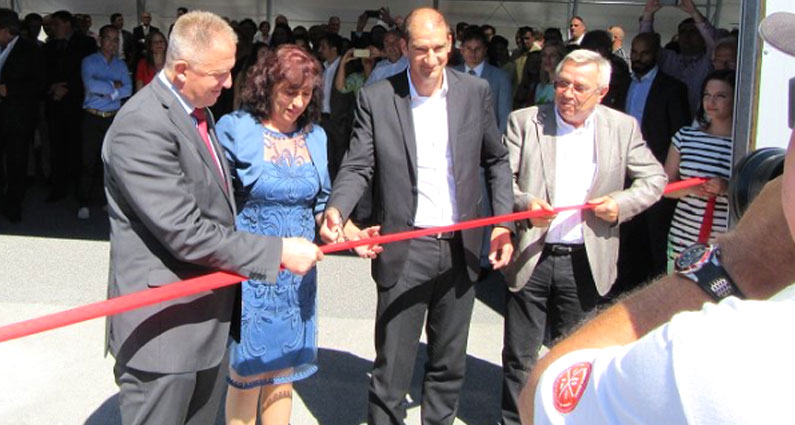 Only six years after the foundation of Seven Refractories, the company already celebrated a significant expansion of its main plant in Divača/Slovenia. Seven's national and global customers will enjoy double the capacity and added flexibility in the future.
Zdravko Počivalšek, Minister of Economic Development and Technology, performed the Grand Opening Ceremony, jointly with Erik Zobec, CEO of Seven Refractories. Divača's major Alenka Štrucl Dovgan also congratulated to the expansion and the significance of Seven Refractories as an employer and economic player in the region.
The festivities were attended by high-ranking officials, numerous clients and business partners as well as international representatives of Seven. In total, the Slovenian company guests from almost 20 countries and 3 continents.
Strong Commitment to Slovenia
Seven Refractories is already present on four continents and well on the way to become a true global player. In hindsight, the choice to locate the main production site in Divača/Slovenia has proven to be highly appropriate. Located in the center of Europe, in close proximity to the major harbors of Koper and Trieste as well as new motorways, the factory is well poised to serve international demand.
On top of that, Slovenia and the Adriatic region are of course highly popular destinations with customers and business partners, offering an ideal chance to combine business with pleasure.
While the steel and iron market in Europe are under considerable pressure, demand for Seven Refractories' advanced refractories is still strong. "The market situation is difficult, but we are nonetheless still growing. Therefore we have decided to significantly expand our capacity in Divača", states Erik Zobec, CEO of Seven Refractories. "Aside from a vastly expanded in house laboratory, we have added a new line and effectively doubled the actual capacity of the popular Seven TAP product. This significant investment made us now more flexible in reacting to customer demand."
Increased Capacity of Advanced Refractories
With an additional capacity of 9.000 tons of refractory materials per year, the Divača plant of Seven Refractories is now even more responsive when it comes to short-term orders. As the rest of the plant, also the new line is ready to be operated on an efficient three-shift pattern.
"All things considered, planning and construction have taken us six months. Now we see the full benefits", explains plant manager Renzo Iuretigh. "We are especially proud of our self-developed and dedicated extruder. In order to stay highly competitive, we must ensure that not only our products and our service are cutting edge, but we also need to be on the forefront of production technique."
The expanded Divača plant will also continue to benefit from Seven Refractories' strong commitment to environmentally friendly products and production. The solar-powered roof contributes to providing clean energy to the plant.
Seven Refractories strives to fulfill not only its environmental obligations, but also to provide optimal working conditions for the employees. Together with the opening of the new enlarged production and laboratory, also new social facilities were opened.
Picture above from left to right:
Zdravko Počivalšek/Minister of Economic Development and Technology, Erik Zobec/CEO of Seven Refractories. Divača's major Alenka Štrucl Dovgan/Major of Divača, and Vladimir Bedov/Board VP of Seven Refractories
Official report of the community of Divača with photos:
https://www.divaca.si/aktualno/2016062814280268/OTVORITEV%20SEVEN/
You can watch the report on the Slovenian television channel RTV 4 (from minute 08:00 to 10:00)
https://4d.rtvslo.si/arhiv/primorska-kronika/174414008