Seven Refractories completes modular hearth shield installation for Tulachermet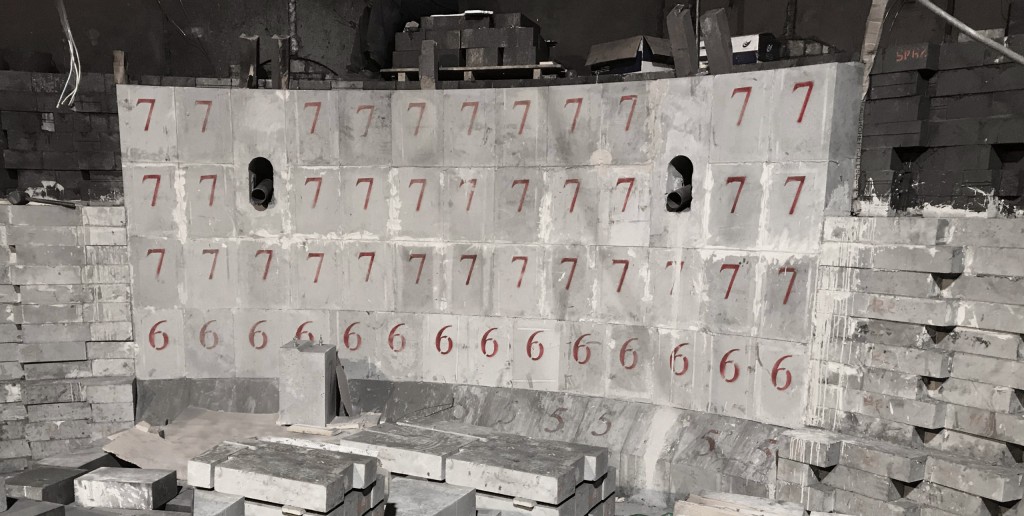 Developing innovative solutions and constantly pushing for new technologies can be seen as a key factor of Seven Refractories' success: Customer feedback shows that the environmentally friendly high-performance taphole clay is just as appreciated as other cutting edge products, such as self-flowing castables or cement-free refractories.
A recent new development focuses on bringing significant advantages to the important area of blast furnace installation. The installation method for the Modular Hearth Shield or MHS has been specifically created for hearth applications from scratch. The result is a solution of optimal material quality and geometry instead of "just enough" lining. Ready-to-use blocks shapes prevent hot metal "float out". Improved heat transfer to cooling elements forms a dense hot metal layer at the refractory surface. Lining architecture, dedicated material and block accuracy lead to several years of life expectancy, which translates into a sizable economic advantage for the client.
Long-term client Tulachermet has entrusted Seven Refractories with the installation in this novel technique. With a yearly production volume of more than 2 million tons of pig iron, Tulachermet is the leading Russian producer and exporter of merchant pig iron, the largest enterprise of the Industrial Metallurgical Holding (PMH). With a strong focus on the leading role in the national as well as the export business, Tulachermet places great emphasis on consistently high production quality.
"In this project, we installed the walls of the entire ceramic cup or Modular Hearth Shield/MHS", explains Aleksei Patrakov,  Technical Manager of Seven Refractories Russia and responsible for the project. "The core phase of the project lasted from mid August into September, and given the large size of the intervention, we can say that we had some very busy weeks."
More than 120  tons of material or well over thousand pre-shaped blocks were installed in the project. "The project highlights several factors our customers have come to appreciate about our work: our project management capabilities also for very large installations as well as our innovative power", comments Maryana Rogacheva, Managing Director of Seven Refractories Russia. "I wish to thank the client for their trust in our competence and our entire team for a big job well done."