Seven Refractories Participates in EFRS trade show in Izmir/Turkey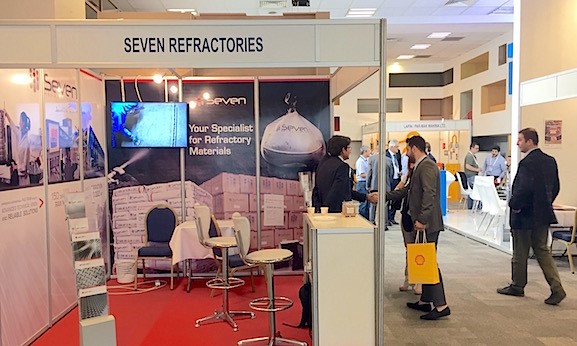 Strong Representation at the 6th International Iron & Steel Symposium
On May 25 – 26, all eyes of the Turkish Iron and Steel Industry were on Izmir, where the 6th International Iron & Steel Symposium was held. The industry gathering featured numerous public and private lectures on current issues the industry is facing. National as well as global perspectives as well as newest technical developments were highlighted in the context of the symposium, where Seven participated as a sponsor.
The event was initiated by the Chamber of Metallurgical and Materials Engineers (CMME), a non- profit state agency founded in 1970 and one of twenty-four Chambers of Union of Chambers of Turkish Engineers and Architects. The main functions of CMME are to organize required and necessary activities and conduct studies in broad fields of production, shaping, improving properties, destructive and non-destructive testing of metallic and nonmetallic materials, and also introducing the new technologies and the knowledges for the use and benefits of the members of CMME and the country.
During the event, Seven welcomed a range of business contacts to its booth from customers, suppliers to industry experts.
"We were very pleased with the outcome of the trade show", explains Marco Tonidandel, Seven's technical expert on site. "Turkey is highly exciting and growing market, which was demonstrated very clearly by the high quality of the lectures."
For more information please follow the link:
Photos:
Impression from the 6th International Iron & Steel Symposium, Izmir