Seven Refractories Strengthens its International Business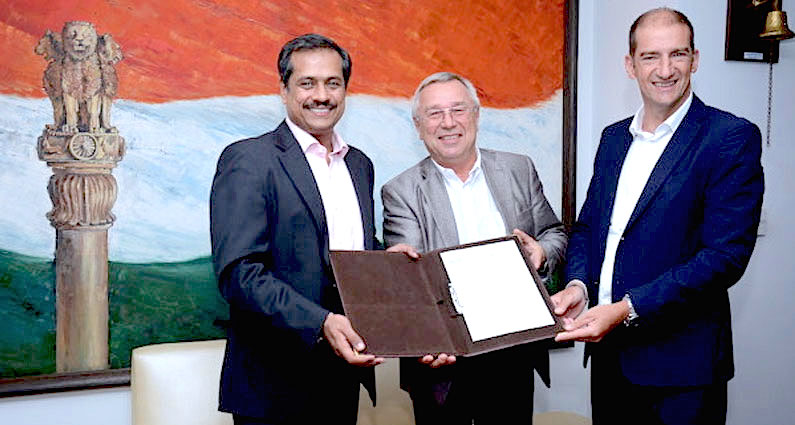 Left to right: Sameer Nagpal, CEO-Refractories Dalmia Bharat Group, Vladimir Bedov, Board VP Seven Refractories and Erik Zobec, CEO Seven Refractories.
Signs MoU with Dalmia Bharat Group for Advanced Refractories.
Divača/New Delhi, August 12, 2016: Seven Refractories has entered into an agreement with the Refractory business of Dalmia Bharat Group to develop and supply a wide range of Monolithic refractories for the Indian market.
With over sixty years of experience in Refractories, Dalmia Bharat group is a preferred partner for refractory bricks and solutions for Indian industry, while Seven Refractories is a leading and fast growing European player in monolithic refractories. The cooperation agreement is intended to lead to a joint venture between Dalmia and Seven.
"We are excited to enter the fast-growing Indian market by partnering with a company that has earned the trust of customers through its knowledge and decades-old experience", said Erik Zobec, CEO, Seven Refractories. "In previous projects in India, we have build up excellent references and we gained a thorough understanding of the specific requirements of the market."
"We are committed to bringing the most advanced solutions to our customers. This partnership will combine the strengths of both companies to provide the latest monolithic refractory technology, customized solutions, faster deliveries and localized services to the Indian industry," said Sameer Nagpal, CEO-Refractories, Dalmia Bharat Group.
About the Refractory business of Dalmia Bharat Group:
The Refractory business of Dalmia Bharat Group comprises two specialty companies – OCL Refractories and Dalmia Refractories Limited. Established in 1954 as a unit of OCL India, OCL Refractories is a leading refractory supplier to domestic and international steel plants. Set up in 1959, Dalmia Refractories (previously Shri Nataraj Ceramics and Chemical Industries Ltd) is a pioneer in high alumina refractory bricks for the Indian cement industry.
The Group's Refractory business has four manufacturing plants in India, one in China, a Technology Center and sales representatives at strategic locations around the world. The business provides a wide range of refractory products and services to both ferrous and non-ferrous plants, including Iron & Steel, Cement, Glass, Copper and Hydrocarbons.