Innovation
is at the heart of everything we do.
"Our Innovation approach is the best practice".
The approach
We entrust our dedication to constantly find new and better solutions to existing problems of our Research and Development department and our Technical department.
Refractories are a crucial interface for many core industries, such as the production of iron, steel, cement, aluminum and other essential materials.
Our products are used in the most exposed areas of production. They are subject to a wide range of highly adverse conditions: extreme temperatures and sudden temperature changes, chemical attacks, abrasions, infiltrations and build-ups by potentially detrimental materials.
All our formulations, research and developing procedures are extremely precise, dedicate and challenging. The process starts with the QC control of all raw materials, it has to pass all our internal testing procedures. Has to be supported by internal and customer specific request, while during the application and installation step, we can identify a better solution for each kind of operation.
When we innovate, we consider a wide range of factors: economic, environmental, ergonomic, and others.
"Developing good refractory materials is not easy from the technological point of view. We do not to "simply" want to push the technological frontier forward – even though this in itself is by no means a simple task."
GREEN ECO FRIENDLY TAPHOLE CLAY
Our prime example of innovation is our wide range of environmentally friendly taphole clays. In each taphole clay product developed by Seven Refractories, we strive for innovation and aim for the fine balance between highest performance and environmental standards.
From the very beginning we have been searching to present a product which can combine excellent  performance achieved by eco-friendly components.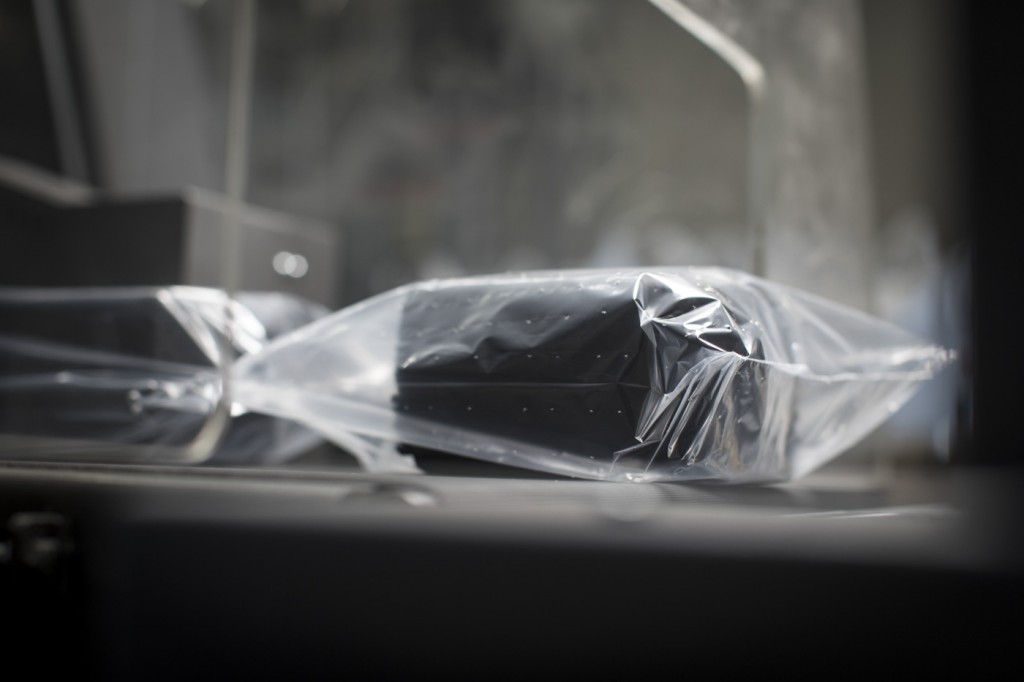 Taphole Clay – What is it?
is used to plug furnaces during tapping operation.
represents specific refractories made of inorganic raw materials (MINERALS) and organic compounds (BINDERS)
MINERALS are the "refractory part", BINDERS provide proper plasticity and injectabilty during operation.
Most BINDERS were composed of Coal Tar Pitch (CTP) derived from carbon coke production as by product of coal distillation.
Coal Tar Pitch – Why has it been used?
Simplicity of usage
Availability as a byproduct of coke distillation
Relatively low cost compared to other chemical substances
Elevated thermomechanical properties of the CTP in metallurgical process
"Graphite" structure after its decomposition in operation
Coal Tar Pitch – Why will be banned?
CTP contains large quantities of potentially harmful substances that are released both during production and application.
These substances are commonly referred to as Polycyclic Aromatic Hydrocarbons (PAHs).
According to the harmonised classification and labelling approved by the European Union, CTP may cause genetic defects, may cause cancer, decrease fertility and damage the unborn child.
The EU REACH regulation (Registration, Evalution, Authorisation, and Restriction of Chemicals) defines the standards of chemicals and their potential impacts on both human health and the environment.
Why are SEVEN TAP the MOST ecofriendly and clean taphole clays on the market?
In the last 20 years, the PAHs issue has slowly led some of the taphole clay producers to look for alternatives with lower concentrations of hazardous components.
✔ Since the beginning all THC formulations of Seven Refractories have used only organic substances that do not present any danger/risk to the final user.
✔  Some competitors have been able to reduce the level of PAH under the limit but currently none can match the Seven Tap range (according to an internal study – see detailed results on page 2).
✔  According to REACH, none of the SEVEN TAP products are classified as dangerous.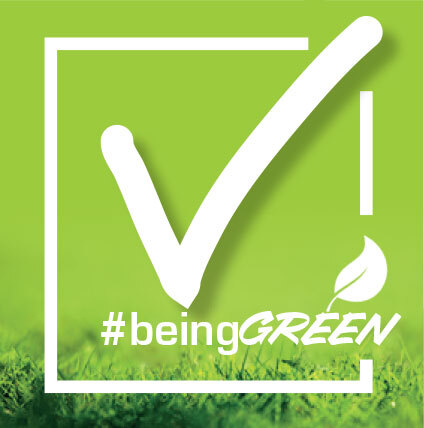 In addition, our unique taphole clay palette packaging is designed so that the operators on the casthouse can take each individually wrapped piece of product in an ergonomic way instead of having to bend down into a box.
MODULAR HEARTH SHIELD
The Modular Hearth Shield (MHS) by Seven Refractories offers products to create a protective long lasting layer for the carbon lining in the blast furnace hearth.
With this concept we offer an ideal geometrical solution based on optimal material quality,  instead of liningfollowing a "just enough" approach.
Targets
Carbon lining protection, i.e. contrast the erosion mechanisms given by:
Oxidation
Corrosion by alkali
Disintegration by CO
Hot metal and slag penetration
Thermal stress
Dissolution due to hot metal and slag flow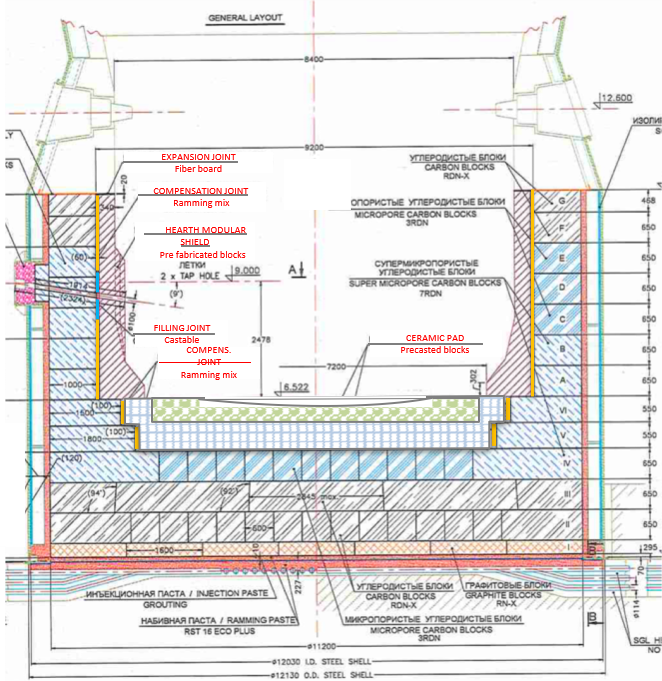 MHS and Environment: Which connection?
Ready-to-use block shapes prevent hot metal from floating out and the improved heat-transfer to the cooling elements contributes to the formation of a dense protective layer at the MHS surface that preserves the blocks from further consumption, thus enabling them to exploit their proper technical function.
All in all, the MHS solution leads to several years of life expectance and therefore cost savings.
A refractory model designed to optimize the whole of hearth lining, block shapes, quality zoning distribution, thermo-mechanical stresses.
A pre-assembled solution allows:
✔  any geometry of the blocks also in terms of thickness, shapes and quality distribution,
✔  long term solution. Protecting the carbon lining by a "MHS technique" which operate for 5-6 years,
✔  less CO2 emission,
✔  less fuel consumption.
All blocks are engineered on white fused alumina and/or fused alumina – mullite; the ramming is engineered on brown fused alumina – Carbon – SiC; the mortar is engineered on brown fused alumina-bauxite.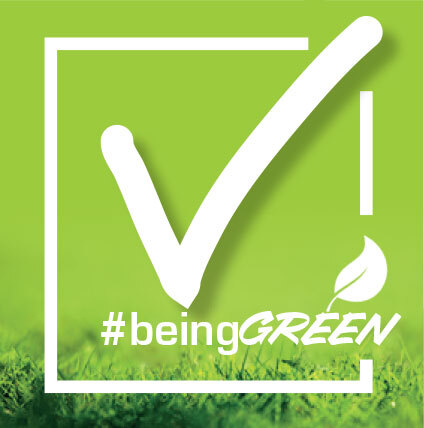 Architecture of the wall of the Modular Hearth Shield:
2 different product qualities for the blocks
1 ceramic bonded carbon-SiC containing ramming
1 chemically bonded mortar
14 different shapes
NO CEMENT FREE CASTABLES
Advantages
Material quality and geometrical solution overcome the concept "preshaped" lining.
Products thermal characteristics enhance the heat transfer to the cooling elements contributing to the forming of a dense hot metal layer at the refractory surface contact added
Several years life expectancy is the result of the lining architecture, the dedicated material developed and the accurate manufacture of the blocks.
The concept of Seven Refractories is an economically attractive and increases the safety and life of the hearth with a limited investment.